What's Wrong With Schools
A Synopsis
I used some ten and a half thousand words to express my concerns about contemporary schooling in the mid-1980s after I had served out my time – seven years - in a tough, inner-city school. The experience of writing is clearly part of my own therapy. But the key points in the argument seem to me now still to pass the test of time. Here is my summary of those key points, that message I wanted to communicate:
The default position of those in power is too often to conceal, to pretend, to spin, to self-deceive.
Any system is much healthier if the voices that say the Emperor has no clothes are heard and taken seriously. Whistle-blowing is to be encouraged to the point when it is no longer whistle-blowing, just an expression of a critique that is a natural part of the fruitful development of an institution.
There is such a wastage of talent due to the limitations of contemporary schooling, such a frustration of opportunity despite the recognisable successes of the few.
Contemporary schooling fails to deliver as well as it should when judged on the academic criterion that shapes it so fundamentally.
This academic criterion is given too much weight within the system. Most youngsters are not yet ready for what the timetable forces them to endure.
1984 was the year I originally wrote. Now, in 2016, thirty-two years later, I scarcely need to change a word in that message. The key points are still there, crying out for attention.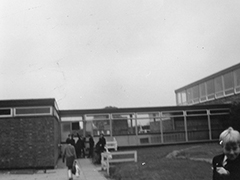 Slough Secondary Modern - Early 1970s
What's Wrong With Schools
How It Was Completed - Reviews
I completed my draft of 'What's Wrong with Schools?' in the summer vacation of 1984 and then very soon became immersed in the responsibilities of my new post in the Tutorial College in Oxford. I had no option but to put the manuscript to one side until the following summer vacation in 1985 when I began to seek the interest of publishers. Only the one chapter – the introductory first chapter - had been written. More would follow if a publisher showed enough interest. In the end, none did but a number of their responses were encouraging. One, in particular, was helpful in drawing my attention to a couple of pages where the writing was too dense and I have hopefully put that right in this 2016 version which otherwise remains very largely unchanged, bar corrections to typos and grammar errors that were the product of myself at 35, a less experienced writer.
Here are three of those responses:
"There is nothing wrong with the manuscript as it now stands just that it is in an area which we don't in fact handle."
"This isn't really a book that falls into our publishing programmes; though this is in no way a reflection on its liveliness."
"Though I'm sure many teachers and training teachers might be interested to read your work, it's not the kind of book that would get on to an academic syllabus."
Now, the World Wide Web offers me the opportunity to retell my story and find that audience.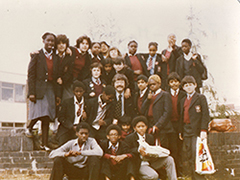 London Comprehensive - 1978
What's Wrong With Schools
Read The Full Article
A Teacher's Tale.
This story starts at the end which was a beginning.
RESIGNATION
On Thursday 10th May at 12.45 p.m., in the lunch interval at school, I resigned from teaching in the State Secondary System. For twelve years I had been a paid employee of the state, first for five years with one local authority, and then for seven years with another. I had been a Department Head for eleven of those twelve years.
I knocked on the door of the Headmaster's room. I waited.
'Come!'
Greetings were exchanged. I waited. There was a perceptible delay and then I was offered a seat. I sat down and saw myself from outside. I felt cosy. I smiled and shut my eyes.
'Well, what can I do for you?'
'I think, Mr Johnson, the time has come for Mr Donovan and Benfield to part company.'
There was a pause. I searched his face for an emotion. It was the face of a politician. He was giving nothing away. I moved away from the prepared strategy and the rehearsed words, and instead I reached into my pocket and produced an envelope containing a copy of the letter of resignation I had sent that morning to the Director of Education. I handed it to him, explaining the nature of the contents. Still, no emotion – neither surprise, pleasure, disappointment nor anger.
What's Wrong With Schools - Read More
Rob Donovan - More Writing
The Road To Corbyn
The Death Of Difference
Jago Stone - Biography
Drink In Victorian Norwich
Ronald Edward Watkins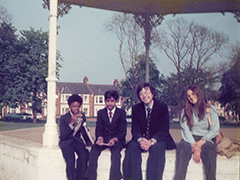 London School Local History Group - c1980