I am a runner and I have my special local circuit that I use for training. I leave our home and very soon turn right to begin moving up the incline of the Stennack road, pavement running. At the top, I branch right on the B3306 heading out west on the coastal road. My route is still uphill and for a couple of hundred yards there is pavement. But then the pavement ends - and it is road-running all the way to the top of the hill at Little Trevalgan. One and three-quarter miles up and then downhill all the way home. 3.5 miles for the free flow of thoughts.
And that is my literary device. You, the reader, are my companion as I run. You are privy to the thoughts that bubble up from my sub-conscious. What you read is, in part, autobiographical. You are able, like me, to delve into the bole in my magic tree to access the fruits of research into matters that need further investigation. A touch of magical realism does not come amiss at the best of times – but this run of mine is being completed in the worst of times. I am running in a pandemic. I need to know more about how the world has become gripped by a virus that is proving deadly for so many. You share my journey of discovery over the months of the pandemic.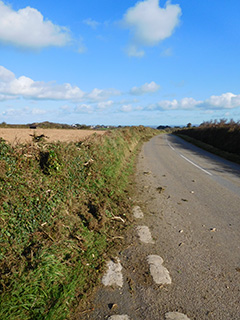 My reader in the Netherlands was kind enough to say she thought my first chapter was 'sublime'. My second chapter proved much more problematic. With the help of my two readers, I reshaped the content to keep the link with the pace and rhythm set in chapter one but would the content alienate the general reader? They thought it might. I wanted to stay truthful to my inner self. The publisher of my biography of Jago Stone has now read my first five chapters. He is very far from sharing my views but he recognises the niche market potential of the book that is emerging.
The task for me is to build up, very quickly, the number of supporters who are prepared to add their name to the list of those who would be interested in buying a copy of this, my third book. The more who show their interest, the more likely it is that Unicorn will publish my literary venture.